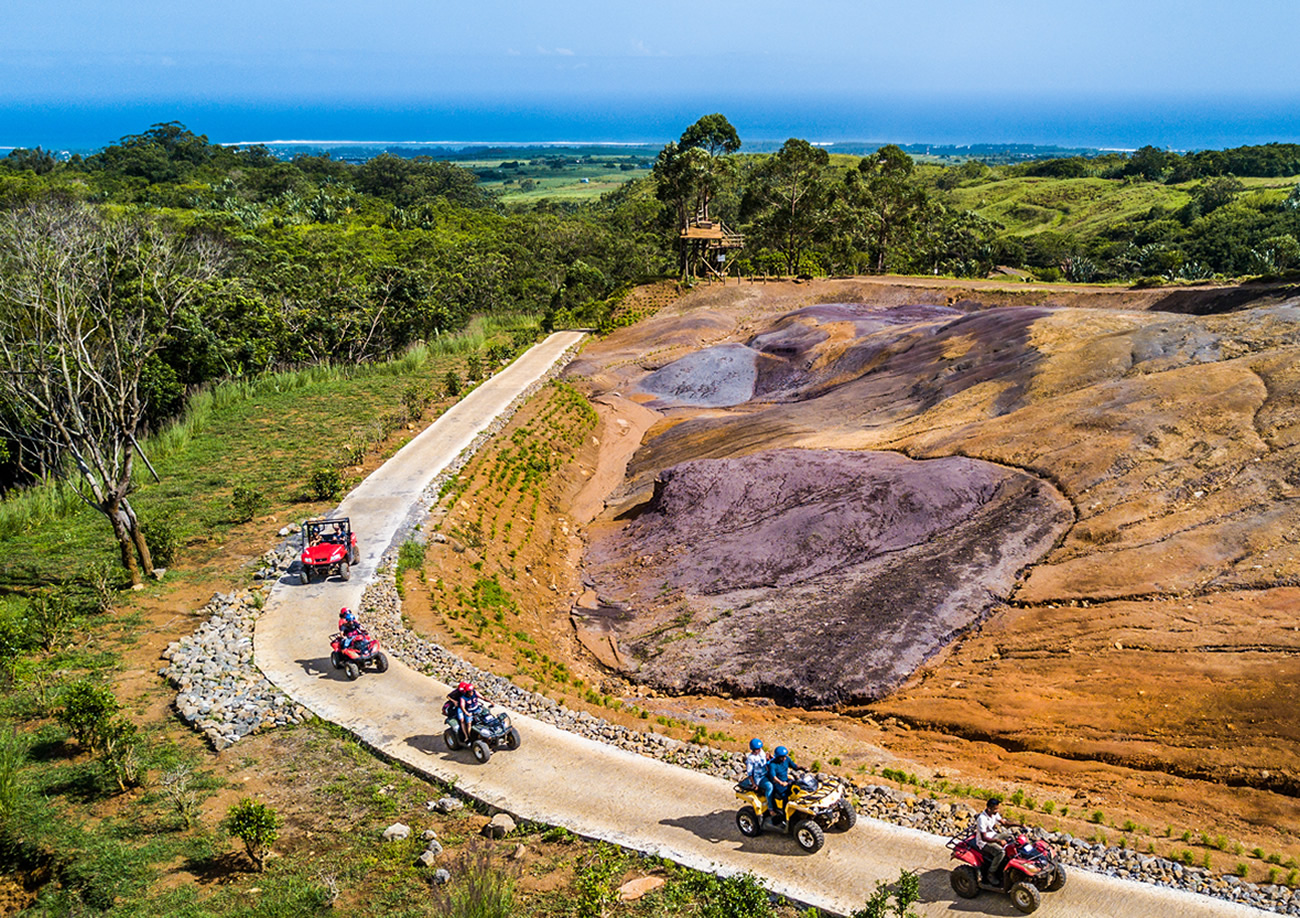 A Volcanic Treasure:
Immerse yourself in the authentic Mauritianexperience that La Vallee des Couleurs Nature Park offers you within an exceptionally beautiful site of 450 acres. More than just a simple adventure park in the heart of the wild South, the valley bears testimony to the volcanic history of the island. 
Indeed the site hid a unique treasure discovered in 1998: a portion of the land containing soil of 23 different colours. The Mauritian geologist Prem Saddul explains precisely how these mineral soils have been deposited from the eruptions of the Bassin Blanc volcano, millions of years ago. A geological museum, unique in Mauritius, traces this remarkable story. 
The park has many other attractions: endemic fauna and flora, six natural waterfalls and impressive panorama overlooking the sea. All these canbeexplored by foot, buggy, jeep, 4×4 VIP, Quad CAN-AM (DPS) or for the more adventurous, by using the four ziplines. You may also have the thrill of our 1.5kms 'Super Longest' zipline, the longest in the Indian Ocean. Visitors can go deer hunting or fish Tilapia, and enjoy lunch at La Citronnelle restaurant. Services are personalised, with a guide or driver exclusively at your disposal. 
But the ultimate experience after a hike or a hunt is to book the private "Cheveux d'Ance" waterfall for a picnic and a swim: a return to nature in all its purity. 
The 23 Coloured Earth: 
Vallee des Couleurs is located around 1 km downstream to the south east of Bassin Blanc volcano. For more than 100,000 years, millions of tons of volcanic ashes of different metallic composition and chemical characteristics have been emitted and have carpeted the Valley. 
Since the Vallee des Couleurs is located almost at the foot of the volcano, it has received volcanic ashes which are more varied in quality and quantity than elsewhere in Mauritius. 
With time and in the presence of moisture, water, oxygen and carbon dioxide, the volcanic ashes comprising such metals as iron, copper, magnesium, aluminium, potassium, calcium, sodium started to change their composition and developed an assortment of around 23 different colours ranging from dark red to brown, light yellow, ocher, purple, bluish and greenish. The ashes have different metallic composition have been deposited in successive bands and later on with gully surface erosion developed rounded shapes, a landscape which geologists call a "basket of eggs topography". 
The 23 colours have been authenticated and described by scientists and other specialists as per international colour codes. Samples are exposed in the geology museum with appropriate descriptions. 
Features: